纺织印染车间废气处理设备 印染行业如何选择废气处理设备
纺织印染车间废气处理设备 印染行业废气处理设备(蓝阳环保)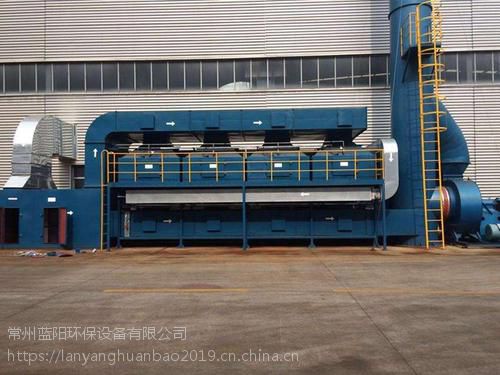 纺织印染废气处理设备简介
印染行业在带来一定经济、社会效益的同时也造成了较为严重的大气环境污染问题。

结合以往经验,针对纺织印染企业以下生产装置中产生的油烟、废气,提供废气处理解决方案,并提供详细的废气净化工艺技术分析:
定型机
涂布机
整形机
烘干机
烧毛机
磨毛机
涂层机
其他产生油烟、废气的设备

纺织印染行业常见的废气排放环节汇总分析

从上述工艺流程来看,可将印染生产工艺流程分为坯布准备、前处理、后整理及成品包装四个阶段。其中,前处理和后整理是主要污染排放源。
前处理包括烧毛、精炼、漂白、丝光等过程。烧毛指将织物通过火焰或在炙热的金属表面擦过,烧去表面绒毛的工艺过程,以保证后续对织物进行染整的工艺效果。此过程会因纤维燃烧产生一定的颗粒物。
精炼、漂白、丝光、染色、固色等工艺过程为湿过程,操作温度也不高,一般不会产生废气。为了达到织物整理要求,还会有皂洗、水洗、烘干等过程。在烘干过程中,织物上附带的织物油、纺纱油、染料、精炼清洁用剂等会挥发,产生大气污染。
此后,织物进入后整理工序,一般通过热定型机进行整理。由于定型机的高温作用(180~210℃),部分定型温度甚至高达280℃,使得吸附在织物表面的污染物受热大量挥发,造成严重的大气污染。主要产生有机废气、粒状污染物(油烟和气溶胶)等。
zui后的成品包装、入库过程很少有废气释放。
涂层整理过程中会使用到大量的有机溶剂,特别溶剂型涂层,对大气污染较为严重。

废气成分分析:
纺织染整过程中可能涉及的大气污染物质,包括甲醇、甲醛、乙酸乙烯酯、乙二醇醚、1,4-二氧杂环乙烷、乙二醇、1,2,4-三氯苯、甲苯、联苯、氨、苯乙烯、丙烯腈、丙烯酸乙酯、乙烯乙二醇、四氯乙烯、三乙胺、二甲苯、甲乙酮、二氯甲烷、甲基异丁基酮、氯乙烯、乙二醇乙醚、苯酚、乙酸乙酯、丙烯酸丁酯、丁二烯、丙酮、DMF、丁酮、苯胺、以及其他的醇、酯、脂肪族碳氢化合物。

废气排放特点分析:
(1)废气排放温度高,一般介于100~155℃之间;
(2)废气含油颗粒物高,粘稠性强,且以冷凝性粒子为主;
(3)废气无机污染物(CO、CO2、HCl等)浓度低,部分可低于检出限;
(4)废气中颗粒物粒径小,多数是不足1μm的油烟颗粒物;
(5)废气有机污染成分复杂多变(醛、酮、杂环化合物等),浓度略偏低(涂层整理除外)。

目前常用的纺织印染废气处理技术
目前对印染废气治理主要集中在对其废气中油烟和颗粒物的去除,以解决废气的恶臭和透明度差的问题。常用的净化方法可归纳为机械净化、喷淋洗涤、静电除尘和氧化燃烧等4大类。
机械净化:
利用质量力、过滤、吸附或吸收等方法,对废气进行净化,其主要装置为旋风除尘器。鉴于旋风除尘器对<5μm颗粒物捕集效率较低,实际应用中一般只作废气预处理装置或一级除尘设备。活性炭过滤装置主要采用亲油性的高分子材料,通过截留、惯性碰撞、扩散等方式净化油烟废气,初期净化效果较好,但吸附饱和时净化效果迅速下降,甚至完全消失。此外,由于印染废气含油量大,粘附性强,易导致装置被油性物质堵塞,造成设备故障。
喷淋洗涤:
是目前应用zui为广泛的废气处理设备,通过对烟气进行喷淋洗涤,气液直接接触,不但可有效的降低烟气的温度,使油烟颗粒冷凝聚集变大而易脱除;同时溶剂水也可吸收部分可溶性的气体,或通过掺入药剂提高疏水性物质的溶解度,进而提高废气处理效率。主要通过水泵增压和喷头作用,将液体雾化与油烟污染物碰撞接触,颗粒物被水雾捕获吸附截留在净化器内。该类设备具有运行可靠性高,能除去大部分直径>2μm以上的油烟颗粒,净化后油烟浓度基本能满足现有排放标准的要求,运行成本介于机械净化和静电除尘之间等优点。但对直径<1μm以下的次微米颗粒物去除效率较低,不能解决印染废气中刺激性气味和有机废气的问题。常用的喷淋洗涤装置有文丘里洗涤塔、涡流式洗涤塔、填料床洗涤器等。

2.静电式油烟净化/等离子油烟净化:
是利用颗粒物经过静电场后获得荷电,形成荷电颗粒物,在电场力的作用下,向集尘极移动而被捕获。其完成需要具备2个条件,一是有直流高压电源产生的不均匀强电场,二是废气中含有自由电子。由于其去除效率高且操作压损小,附带有去除腐蚀性、毒性、少量臭味废气功能,其在纺织印染废气中的应用越来越广。

3.燃烧技术:
可分为直接燃烧、催化燃烧和热力燃烧三大类。对于印染废气,热值较低难以直接燃烧,一般在处理过程中需要添加一定的辅助燃料。催化燃烧处理存在催化剂中毒的可能,特别是印染废气中含硫化物或矽酮类物质,因此在进行催化燃烧之前,需对废气进行脱硫及烃类物质。热力燃烧需预先增温后,进入热力燃烧室燃烧,适用于高浓度有机废气处理,其投资运行成本较高,难以适用于当前的印染企业实际情况。此外,燃烧法zui大的问题是,存在回火现象,长时间的处理使得内壁会残留许多油垢,处理过程中稍微不注意,可能会引发管道内火灾。

通过以上分析,可以看出,静电式油烟净化器(等离子油烟净化设备)是目前针对纺织印染企业经济、高效的废气处理设备。同时,根据我们的工程经验,为了获得更好的除臭除味效果,实现印染废气无烟无味排放,建议联合光催化废气处理设备使用。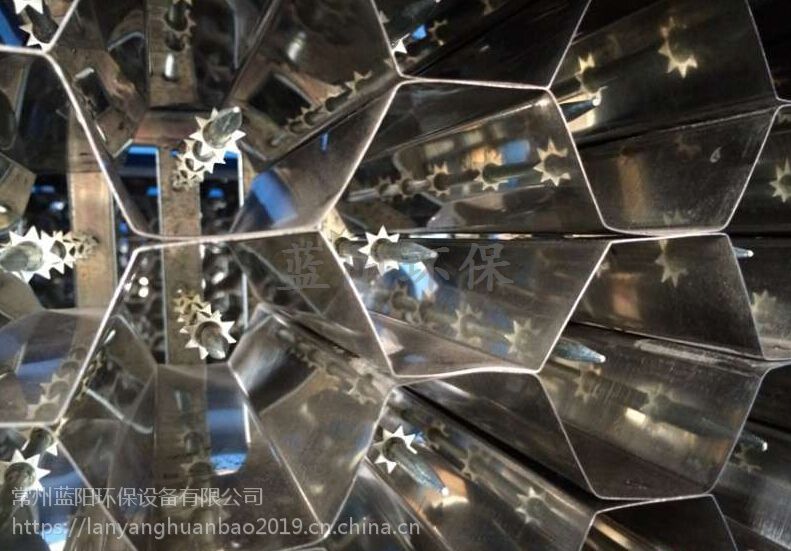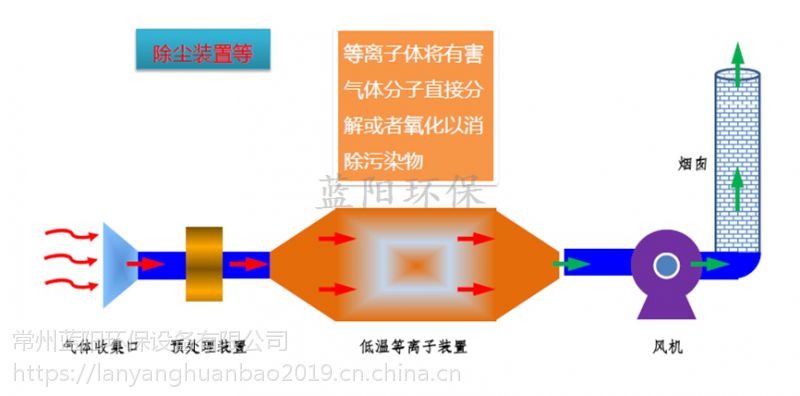 Brief Introduction of Textile Printing and Dyeing Waste Gas Treatment Equipment
Printing and dyeing industry has brought certain economic and social benefits, but also caused a more serious problem of atmospheric environmental pollution.
Based on the past experience, Jinan Platinum Rui Purification Equipment Co., Ltd. provides solutions to the fumes and exhaust gases produced in the following production facilities of textile printing and dyeing enterprises, and provides detailed technical analysis of the exhaust gas purification process.
Stereotyping machine
Coater
Shaping machine
Dryer
Singeing frame
Grinding Machine
Coating machine
Other equipment for producing soot and exhaust gas
Summary and Analysis of Common Exhaust Gas Emission Links in Textile Printing and Dyeing Industry
From the above process, the printing and dyeing production process can be divided into four stages: grey cloth preparation, pretreatment, post-finishing and finished product packaging. Among them, pre-treatment and post-treatment are the main pollution sources.
Pretreatment includes singeing, refining, bleaching and mercerizing. Burning refers to the process of burning down the surface of a fabric by rubbing it on a flame or hot metal surface to ensure the subsequent dyeing and finishing of the fabric. This process will produce some particulate matter due to the combustion of fibers.
The process of refining, bleaching, mercerizing, dyeing and fixing is a wet process, and the operating temperature is not high, so the exhaust gas will not be produced. In order to meet the requirements of fabric finishing, there will be soaping, washing, drying and other processes. In the drying process, the fabric oil, spinning oil, dyestuff, refining cleaning agent etc. attached to the fabric will volatilize, resulting in air pollution.
Thereafter, the fabric entered the post-finishing process, usually through the heat setting machine for finishing. Because of the high temperature effect of the stereotyping machine (180-210 C), some of the stereotyping temperature even reaches 280 C, which makes the pollutants adsorbed on the surface of the fabric evaporate in large quantities and causes serious air pollution. It mainly produces organic waste gases, granular pollutants (fumes and aerosols) and so on.
There are few exhaust gases released during the packaging and storage of finished products after zui.
A large number of organic solvents, especially solvent-based coatings, will be used in coating finishing process, which will cause serious air pollution.
Analysis of exhaust gas components:
Air pollutants that may be involved in textile dyeing and finishing process include methanol, formaldehyde, vinyl acetate, ethylene glycol ether, 1,4-dioxane, ethylene glycol, 1,2,4-trichlorobenzene, toluene, biphenyl, ammonia, styrene, acrylonitrile, ethylene acrylate, ethylene glycol, tetrachloroethylene, triethylamine, xylene, methyl ethyl ketone, dichloromethane, methyl isobutyl ketone, chloroethylene. Ethylene glycol ether, phenol, ethyl acetate, butyl acrylate, butadiene, acetone, DMF, butanone, aniline, and other alcohols, esters, aliphatic hydrocarbons.
Analysis of the characteristics of exhaust emissions:
(1) The exhaust gas emission temperature is high, generally between 100 ~155 C.
(2) The exhaust gas has high oil-bearing particulate matter, strong viscous property and mainly condensable particulate matter.
(3) The concentration of inorganic pollutants (CO, CO2, HCl, etc.) in exhaust gas is low, and some of them can be below the detection limit.
(4) The particle size of exhaust gas is small, most of which are soot particles less than 1 micron.
(5) Components of organic pollutants in waste gas are complex and changeable (aldehydes, ketones, heterocyclic compounds, etc.), with a slightly lower concentration (except coating finishing).
Currently commonly used textile printing and dyeing exhaust gas treatment technology
At present, the treatment of printing and dyeing exhaust mainly focuses on the removal of soot and particulate matter in the exhaust gas, in order to solve the problem of odor and poor transparency of the exhaust gas. The commonly used purification methods can be summarized into four categories: mechanical purification, spray washing, electrostatic precipitation and oxidation combustion.
Mechanical purification:
The waste gas is purified by means of mass force, filtration, adsorption or absorption. The main device is cyclone dust collector. In view of the low efficiency of cyclone dust collector for particles less than 5 micron, it is generally used as an exhaust gas pretreatment device or a primary dust collector in practical application. Activated carbon filter mainly uses oil-affinity macromolecule material to purify oil-fume exhaust gas through interception, inertial collision and diffusion. The initial purification effect is better, but the purification effect drops rapidly or disappears completely when the adsorption is saturated. In addition, due to the high oil content and strong adhesion of printing and dyeing exhaust gas, it is easy to cause the device to be blocked by oily substances, resulting in equipment failure.
Spray washing:
At present, Zui is a widely used waste gas treatment equipment. By spraying and washing the flue gas and contacting directly with the gas and liquid, it can not only effectively reduce the temperature of the flue gas and make the condensation and aggregation of the fume particles larger and easier to remove, but also absorb some soluble gases, or increase the solubility of hydrophobic substances by adding chemicals, thereby improving the efficiency of waste gas treatment. The liquid atomization is collided and contacted with soot pollutants mainly through the action of pump pressurization and nozzle, and the particles are trapped and absorbed by water mist and trapped in the purifier. This kind of equipment has the advantages of high operational reliability, removal of most soot particles whose diameter is more than 2 microns, the concentration of soot after purification can basically meet the requirements of existing emission standards, and the operation cost is between mechanical purification and electrostatic precipitation. However, the removal efficiency of sub-micron particles with diameter less than 1 micron is low, which can not solve the problem of irritating odor and organic waste gas in printing and dyeing exhaust. The common spray scrubbing devices are Venturi scrubber, eddy scrubber and packed bed scrubber.
2. Electrostatic Fume Purification/Plasma Fume Purification:
Particulate matter is charged after passing through the electrostatic field to form charged particulate matter, which is captured by moving to the dust collector under the action of electric field force. Its completion requires two conditions, one is the uneven strong electric field generated by DC high voltage power supply, and the other is the free electrons in the exhaust gas. Because
上一页: RCO催化燃烧装置处理有机废气的原理以及效果
下一页: 有机废气处理设备 voc废气处理设备选型及风量选择